Let's take a quick stroll down memory lane.
Remember way back in the early 2010's when sideboob became a thing? We cut all the armpits of our ratty t-shirts down to our pelvis, and bought the shirts with the lowest back to let the maximum titty hang out the side. We blurred the lines between fashion and flashin'. Well, I did at least. #noshame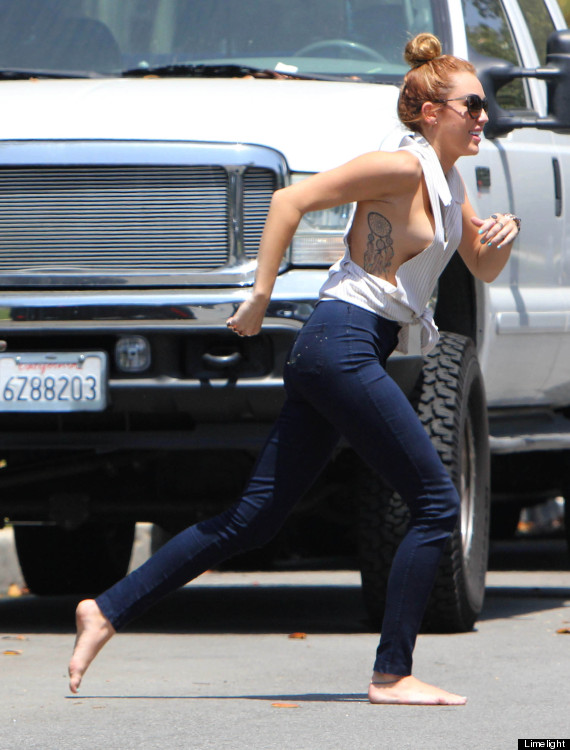 #tbt #mileysworld
It was a universally flattering trend for the full-busted and flat-chested, showing just enough to garner interest but not enough to expose your insecurities. Side-boob didn't have to include side-tummy! And besides, who notices tummy when there's a tasty slab of breastmeat out to play.
As trends tend to do, sideboob twisted, hibernated, morphed, and came out as a the revolutionary underboob trend. The sideboob's fine and fearless sister arrived in full swing, with tops cropped to the extreme. I've seen these everywhere. As in, everywhere on the Internet, because I don't leave my house, but still. I've seen a lot of different backdrops. Catch a boob bottom on the boardwalk, at the mall, and even on the fashion runways.

Now underboob, as with most things, has spilled her way into the world of lingerie. How are we feeling? Excited? Disgusted? Or are we all feeling as conflicted as I am?
Fashion trends, and especially first wave lingerie trends, tend to favor tiny busts at their birth. When I first saw it, I worried it was one that would favor tiny busts forever. Realistically, ya'll. How would that work?
Don't get me wrong – I'm no bodyshamer, and I'm a firm believer that anyone in any size should wear what they choose. But sometimes (like in the case of those clearance shoes that only come in the 6.5, and let's face it - you're really a solid 8) gravity and chance get in the way of what we want.
Take, for example, this bralette by Lacegrenade. If my breasts got back to their post-op size, about a 30DD, I'd be all over this. And not just one, but every color. Think of the layering options under clothes! Think of the sex-factor impact out of clothes! It's the perfect mix of accessory and practicality. And while I'm personally not that far off, there's a majority of folks who are.
But the heart wants what it wants. When there's a will, there's a way. And nobody puts underboob in the corner.
Luckily for us folks with the bigger busts, there are more structured takes on this trend. Playful Promises' mini brand Peek and Beau makes an underboob option in standard sizing all the way to plus, bringing the opportunity to a broader audience. Wire is there for a little extra security, and lacing up at the top for a little extra bite.
Although offering more of a standard sizing range, Bluebella can easily be sister-sized for some of us trying to get that look without losing our lumps to the wind. Let's face it, you're not wearing a cutout bra for the amazing lift and shape it's going to give you.
And last but definitely not least, for those of you with the phat wallets, a luxury option. It might be least practical of all the options, but it's so damn opulent I doubt anyone would mind.
I could keep listing and listing, but my spending is already out of control. Time to wrap this one up, folks.
For this story, the ending is a happy one. The gorgeous underboob is a trend with new adaptations, newer twists, and brands working hard to open doors for as many boobs as possible to walk in and join the party. Now if you'll excuse me, I'm about to go on a shopping bender I really can't afford. Ever wondered the real reason why there's such long breaks between my posts?
Each post leads to bankruptcy.